Precise 2D Virtual Design Services in Hyderabad
While executing the design, the exact dimensions are an obligation for accurate work; we pay close attention to details and deliver comprehensive 2D virtual design services in Hyderabad. After commencing the job, you might realize that you are running out of budget and want to make changes in the middle of the project. To avoid this cumbersome process, we develop 2D virtual design ideas that are accurate with the dimensions, materials, and everything according to your taste, style, and budget. Serene Interio is a team of professional CAD designers who provide high-quality 2D Designs within the said timeline. We can design a 2D version of room interiors, retail interiors, office interiors, and landscapes.
Our Sample Works
Our 2D visuals help you envision your designed space and allow you to understand the practicality of various design elements beforehand. Please go through some of our sample work of 2D design services in Hyderabad that will leave you in awe.
Benefits of 2D Design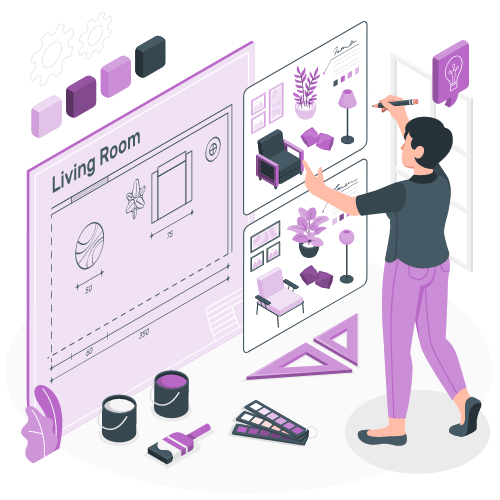 In the world of interior designing, to create a design of your apartment, villa, office, or retail shop, 2D illustrations are prepared as a technical work guideline for execution purposes. Unlike other 2D virtual designers in Hyderabad, we also help you divide the budget in an optimum manner. Our designers visit your site, inspect your home and know your requirements according to your taste and style. Then we address all your queries and concerns before moving on to the next step. Our team suggests ideas and suitable materials like tiles, marbles, laminate, hardware, painting, furniture, walls, etc, according to your budget.
One of the key benefits of availing of our 2D virtual designs in Hyderabad is that they are affordable. Since we already know your budget constraints, we make sure to make the best use of them. The next benefit is proper space planning. Due to inaccurate space planning, there can often be obstacles in execution; 2D designs help both parties understand the available space and utilize it best. With that being said, we also help you in cost division; you will always be within your budget while designing your dream space. And lastly, our experts give you suitable material suggestions for your design plan. We deliver all drawings you need for a good renovation, including floor plan, elevation, furniture layout, electrical plan, etc.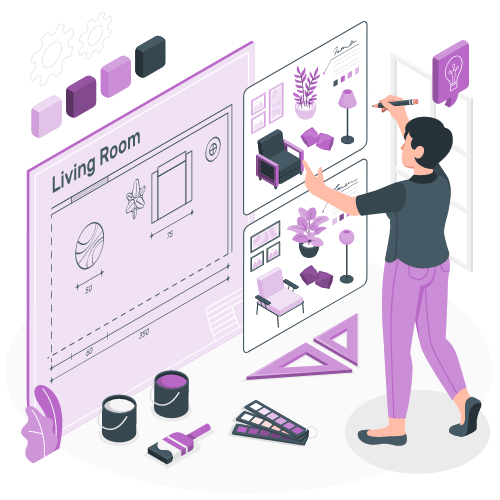 Why Choose Us?
Our powerful sense of connecting with client projects and identifying their needs motivates us to provide quality interior design solutions constantly.
Frequently Asked Questions
The cost of each project is variable depending on the scope. However, we at Serene Interio give you far more affordable plans to suit your budget. To provide you with a rough idea, we charge as per square feet. Feel free to call us for a free consultation, and we can give you an estimation.
Firstly, we visit your existing space to take all the measurements and note your requirements. Then we schedule a meeting for budget discussion. As soon and we set a budget, we patiently answer all your queries. Once that is out of the way, we prepare a 2D design and deliver it on time.
When it comes to 2D, it is essential for measurements and space planning, whereas 3D design is when you want to see a more realistic view of the space.