The living room and our kitchen is the heart of every house. In the living room, the family enjoys movie nights, reading good books, helps your children to tackle their assignments. The living room is mainly used in various ways; it is crucial to decorate your rooms with the perfect furniture and designs. You can decorate your home in many ways. If you are trying to decorate the house on your own, you can try out some new according to the given tips. The designs will help you to show off your aesthetic designs. Let us have a look at the best home décor ideas.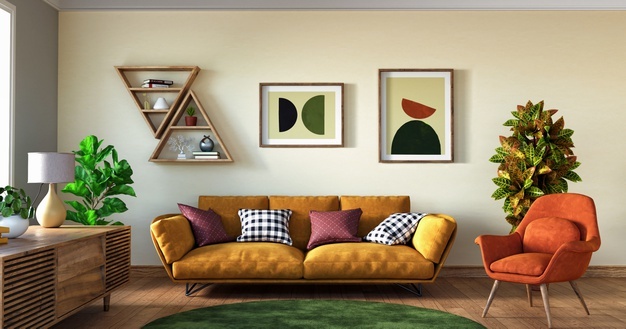 How to give an aesthetic touch to your house?
Are you thinking about how to craft your dull space into a functional and stylish one? See our ten given tips ideas to recreate your house. It doesn't matter whether you aim to refresh the living room or completely revamp. You can make a mixed match and create some new ideas for yourself. Here most of us want to make our home Instagram-worthy. But when we think of putting money and effort, we tend to back off. The best tip is to decorate a single room once. In this way, you will not get tense. Here are some of the budget-friendly, simple and best home décor ideas.
1. Mix up the walls
Use your corridor and passageway walls and design them up by creating a gallery wall. Do not stick only photos. Instead, mix your wall with different things, such as quirky decors, mirrors, quotes, decorative plates, or photos. It will enhance the look of the house.
2. Create big statement
Add a big stylish vase in the corner or a big piece of canvas, or a stylish piece of the furniture such as an accent chair or bar unit. You can pick anything which will make a statement for giving your home a classy and rich feel.
3. You can go to Green
The most affordable, most accessible, and most straightforward way for adding aesthetics to your home is by introducing plants. Be it succulents, plant frames, faux plants, indoor plants, and hanging plants.
4. Show off the collection.
Introducing the display unit at your home will make your house look more open and spacious. You can also get some stylish space for storage. In addition, it will give you an opportunity of displaying quirky possessions, vintage pieces, memorabilia, collections, and books.
5. Color splash
You can reflect your personality through the colors that you choose for home decors if you get confused about choosing the color. You can search it on Google, and then you will receive various options to select. It is one of the unique home decorating ideas.
6. Cozy Lighting
Lighting in the house will create a huge difference. You must ensure that enough natural light is entering your house all day. For making a cozy environment in the evening, you will have to introduce candles, fairy lights, and lamps. You can follow this idea to give a romantic look to your bedroom.
7. Add fabrics
You can also change the house by changing old fabrics. For example, you can change the curtains, area rugs, and cushion covers to add a fresh look. This is one of the best home interior design ideas for the living room. Layer it up with various fabric textures. It will add some extra oomph in the living room.
8. DIY
Not have that much budget to invest in décor pieces? No need to worry; there are various craft ideas for home décor. You can find various ideas on the internet. Reuse the furniture pieces, fabrics, bottles, or anything else you can recreate by adding a personal touch to the home. This is one of the affordable home décor ideas.
9. Placement of Furniture
This is one of the quickest ways to give a new look to the space. Rearranging the furniture will give a new look to your house. Make the full utilization of space by placing the furniture. You can create a layout that will make your house look fresh and spacious.
10. Play with mirrors
It is one of the modern home décor ideas for making the tiny house look more prominent. The mirror plays a magic role in our house. It can brighten and open up the home. You can also find a big mirror with a unique frame. It will give the illusion of a bigger space and add some aesthetic to your house.
Wrapping up
Forgiving the best look to the home, you can also hire an interior decorator service to make your house more beautiful. But you will have to do good research upon it.