Wouldn't it be wonderful to be able to picture your area before you really fill it with your design ideas? Without a doubt, it would be. The problem, though, is figuring out how to do it. Don't stress; 3D interior design makes it simple. Although 2D drawings and hand-drawn sketches were used in the past to aid with visualisation, the designs were abstract, making it difficult for people to envision how the finished real-life space would look. With the advent of 3D interior design, things started to change, and nowadays, one may witness the planned concept come to life in front of his or her eyes even before the pieces begin to fit together.
What is 3D Interior Design?
The process of planning and designing an interior space for a physical building and then seeing the finished product in three dimensions—that is, with width, height, and depth—is known as 3D interior design. In layman's terms, before any building of the space has even begun, 3D interior design offers a realistic vision of the room from a number of perspectives with a clearer idea of all the features. It includes what items the area will contain, how they should be (in terms of graphics, materials, etc.), and where they will be placed.
The use of 3D interior design is crucial because it enables you to view a space from various perspectives and obtain information on the key components. You can perceive the various textures, shadows, and get a true sense of how your space could actually look through 3D representations which look very photorealistic.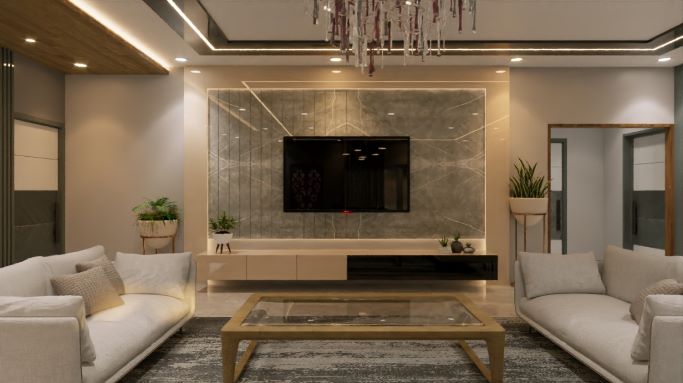 Benefits of 3D Interior Design
Even before the real work begins, you may take a virtual tour of your area to receive a complete picture and a true depiction of its finished appearance using 3D interior design. This would cover all the specifics of every structural and design component, from floor to ceiling, that will come together as the project is revealed. Therefore, you can easily see where each piece will be and how it will fit. By carefully inspecting the interior from every angle, which was extremely difficult with 2D interior design, you can also have a look at the aesthetic advantages as well as the technical features of the design.
Do you want to experiment with various colour schemes for your curtains? or would you be interested in seeing how your long couch would appear in your living room? or are you simply looking to add windows or doors to your kitchen? – Virtually everything is possible with 3D interior design. It gives you the freedom to explore different options and test out countless design configurations for your environment, such as experimenting with different designs, colour schemes, textures, patterns, and layouts, all without physically moving, altering, or touching a single part and at no expense.
3D interior design offers a platform for collaboration where you and your interior designer can work together to change, add, remove, replace, or shift elements (in a virtual environment) or items that don't meet your requirements in the initial draughts or rough versions of the plan. Yes, with 3D interior design, you have countless alternatives to change and enhance the design to make it more balanced. For example, you can replace the boring square window in your living room to open French windows if you prefer them.
Saving time, effort, and money
It saves you time, money, and effort because 3D interior design enables you to fully see the interiors of your space before it has even finished being renovated. If your window treatments, art, or furniture is the wrong size or shape when it is placed, for example, correcting them by rebuilding and reshaping will increase the strain on your finances, time, and efforts. However, with 3D interior design, the likelihood of such design calamities is entirely eliminated because you are given the full picture and a preview of everything while experimenting with a variety of possibilities until you achieve the desired result.
Reference point for all involved in the project
Particularly in terms of colour, surface specifics, style, elevations, and orientation, a 3D house floor plan is far more accurate. A 3D design provides a clearer perspective of your home from all angles while the 2D design just provides a flat, monochromatic diagram of your home. For a large project, this is crucial. A 3D model will work as a reference for all project participants, including technicians, contractors, architects, etc.
The most significant and important advantage of 3D interior design is that it can be accessed online, which allows you to further conserve time, money, and effort. There is no better method to improve your environment than choosing a virtual design consultation if you are too busy to visit an interior design agency or if the new normal has rendered you home-bound. Therefore, reserve your spot now and get started right away if you're ready for this novel and adaptable strategy.